A few people have asked so I decided to open up commissions.
Note:
For non-standard sizes (e.g. banners, joystick covers, etc.), I can draw different cut-offs of the character (e.g. headshot, bust, waist-up) but you will need to note me first with the details before I can give you a price.
For COMMERCIAL commissions (i.e. not for personal use), please see note at the bottom.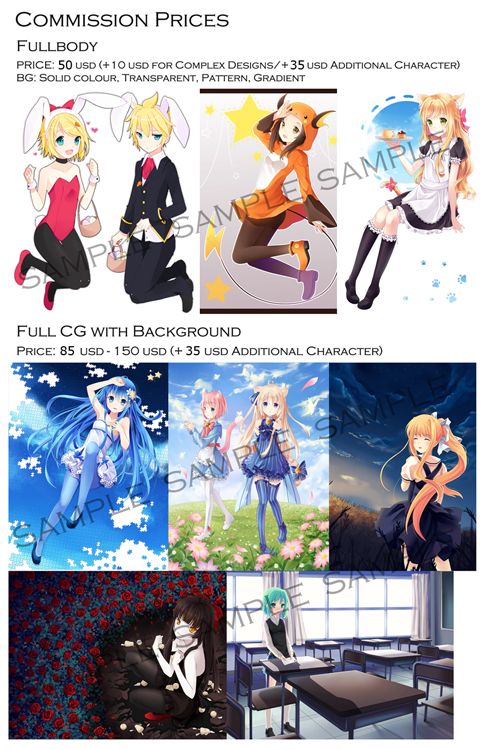 FUTURE COMMISSIONERS, PLEASE READ ALL OF THE BELOW

Paypal only

No refunds (unless commission is cancelled)

No major edits/changes will be made once you receive the finished image. By that point you've already approved the sketch and should have pointed out any problems at that stage of the commission. Minor edits might be made (e.g. if the colour seems off somewhere or a small detail about your character's design is missed by myself). Please understand that changes to sketches are not too difficult whereas changes to fully cg'd/lined pictures is quite tideous (changes to the line work means having to re-cg parts or entire areas of the image, which means many additional hours of work).

Will try to finish your commission within a month from your payment

You
must
supply reference or sufficient written description so that I know what your character(s) looks like or have some general understanding as to what it is you want.
Please provide the following in your note:
Email:
Type of Commission:
Number of Characters:
Reference:
Addition Description (if needed): e.g. personality info, a particular pose you want, etc.
WILL NOT DRAW

Hentai

Furry

Mecha

Masculine men/Older Characters
Process

Place your order & wait for a reply from me telling you that I will accept your commission.

I'll send you a copy of the sketch and await your approval

When you are happy with the sketch, send payment via paypal (I WILL NOT proceed any further without payment)

CG finished and sent to your email (may also be uploaded on deviantart)
Note* For certain reasons I am not always able to accept every commission query I receive. Usually it's because I already have a long list and cannot accept new ones until the list is cut down in size, but occassionally the request may be something I consider better suited for a different artist.
**IF YOU EVER DECIDE TO
CANCEL
YOUR COMMISSION, LET ME KNOW.**
---
About Commercial commissions, I do accept them however:  

I do
not
work for free or for some future, undetermined profit you may make.

I will most likely say no to LONG TERM jobs, unless the financial benefits are great enough an incentive.

If there are multiple artists working as a team on a single project, please know that there are limits to the degree I will change my style (e.g. I will not draw extremely muscular men or a strong shounen style). I think it is important for 'team projects' to assemble a group of artists that have styles that 'mesh' together in order to ensure consistent quality/style. If I think that my style will not blend well with others on your team, I will say no.
Thank you.
----------